Mark Evans

Mark Whitmore Evans was born on March 2, 1956 in Melbourne, Australia. In March 1975, Mark met AC/DC when they played a date at the Station Hotel in Melbourne. He had actually been thrown out and barred from the Station Hotel for brawling the night before the AC/DC show. Mark and his mates managed to get back into the bar for the gig the next night, but were eventually spotted by the hotel's bouncers who threw them out once again. During the ensuing melée, Bon and AC/DC roadie Steve McGrath jumped in to help Mark Evans. They managed to persuade the hotel management not to throw him out. Two weeks later Mark joined the band and even played one of his first shows with them at the Station Hotel.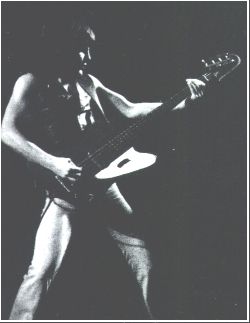 Mark left AC/DC, due to some personality clashes with Angus, during the summer of 1977 and flew back to Australia. Joining up with vocalist Owen Orford and drummer Peter McFarlane, he swiftly put together an outfit called Contraband and recorded an album entitled 'Nothing To Hide' for the Portrait label, which was released in 1978. Mark Evans recorded three albums with Contraband.
Subsequently, Mark turned up in various Australian bands, none of whom really went on to achieve anything of note. Arguably the most interesting were Heaven, managed by Michael Browning and fronted by one Allan Fryer, who was considered at one time to be the hot favorite to replace Bon Scott after his tragic death in 1980.
The last anyone heard musically from Mark Evans was in Los Angeles during the early '90s when he recorded an album with The Zoo, led by Fleetwood Mac drummer Mick Fleetwood.