---
12/10/2002

AC/DC have signed to Epic Records in America. And the first releases under this deal will be revamped versions of 'Dirty Deeds Done Dirt Cheap, 'Highway To Hell' and 'Back In Black'. This is part of a strategy that will see the band's entire back catalogue re-issued. The band will record one more album with Elektra.
---
11/13/2002

According to my source, a very good one, the band is in fact Vancouver right now, recording the new album. They plan to release it in March 2003, but looking at their recent track record, they'll probably end up releasing it in late April or early May. They also plan to tour extensively following the album's release.
---
11/12/2002

An exclusive Australian only 17 cd box set is being released in Australia on Monday 2nd December 2002 on the Festival Mushroom records label.

Albums featured on this release will be:

Live (Double)
High Voltage (Aus)
T.N.T
Dirty Deeds Done Dirt Cheap
Let there be rock
Powerage
If you want blood (you've go it)
Highway to Hell
Back in Black
For those about to rock (we salute you)
Flick of the switch
Fly on the wall
Who made who
Blow up your video
The Razor's Edge
Ballbreaker
Stiff Upper Lip

The box set is available to pre-order via Sound World Music and is priced at $349.95 Australian dollars (approx £124 UK pounds and approx $196 US dollars).

For further details regarding this box set you can contact Peter Davis of Sound World Music (Australian release specialist store based in Newcastle, Australia) via the e-mail peter@soundworld.com.au
---
11/12/2002

A new AC/DC DVD is expected to be released in mid-Febraury of 2003. The DVD, titled "Rock Masters: AC/DC", is a BBC television footage of AC/DC at London's Hippodrome in October 1977. It has a running time of 41 minutes and a stereo soundtrack featuring the tracks "Let There Be Rock," "Problem Child," "Hell Ain't A Bad Place," "Whole Lotta Rosie," "Bad Boy Boogie," "Rocker," and "T.N.T.". More details coming up soon.
---
11/09/2002

According to several news sources, AC/DC has finally been elected to be inducted into the Rock and Roll Hall of Fame. This was the third time that the band was nominated for the Hall of Fame. Alongside AC/DC, three British groups were inducted as well: Elvis Costello and the Attractions, The Police, and The Clash. The induction ceremony is to be held on March 10, 2003 in New York City.
---
08/14/2002

Brian Johnson is spreading himself far and wide right now. His latest collaboration is with US rockers Jackyl on the song 'Kill The Sunshine', which is due to be included on the latter's next, as yet untitled, studio album. Other songs included are Give The Devil His Due, Vegas Smile, If You Want It Heavy (I Weigh A Ton), Billy Badass (I am a motherfucker), and Sparks From Candy. I will post more details as soon as possible.
---
07/16/2002
Brian Johnson was one of the guests at the Star-Studded opening of the Baltic Mill Art Museum in Gateshead, North-East England on Saturday night.
Brian has recorded a track for a childrens album that will feature other famous rock artists. There are no further details available at this time. (Does this guy ever get tired)

News Source: Crabsody In Blue
---
06/09/2002

Albert Productions, the home of AC/DC, has left long term distributor EMI for Festival Mushroom Records. In Australia, AC/DC have always been with Alberts ever since the release of their first single "Can I Sit Next To You Girl" in 1973. The association is via family ties. Angus and Malcolm Young are the younger brothers of Albert house producer George Young. George with partner Harry Vanda were members of The Easybeats and later became Flash and the Pan. AC/DC have been on Atlantic Records in other parts of the world but have always stayed loyal to their first label Alberts in Australia. In the 70's Alberts was distributed by EMI but moved to Sony for a short period in the 80s before returning to EMI. Festival Mushroom will inherit the entire AC/DC catalogue as part of the deal.

More details on Undercover Music

News Source: Electric Shock
---
05/09/2002

Cliff Williams plays on the recently released CD "San" from Bosnian-American musician Emir & Frozen Camel. Upon hearing the demos Cliff got involved and picked a studio in Ft. Myers, FL where the album was recorded. Cliff plays bass on the entire album, which is currently only available thru mail order. Email emir_frozencamels@hotmail.com for info on getting the CD.

News Source: Electric Shock
---
04/21/2002

Brian Johnson has apparently written music and lyrics for a forthcoming Ballet. He is collaborating with Sarasota Ballet Artistic Director Robert de Warren on "Helen of Troy," a lavish blend of mythology, dance and musical-theater spectacle. The $1.2 million production, announced last week, will open at Sarasota's Van Wezel Performing Arts Hall in March 20, 2003.

For more information, read this article.
---
04/21/2002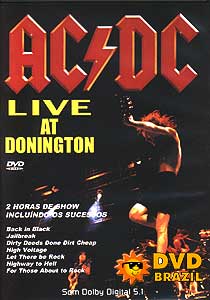 The DVD "Live At Donington" has been released in Brazil. The DVD is encoded in NTSC format and is compatible with all DVD players.

DVD Features:

Interactive & animated menu
Biographies

Audio:

Dolby Digital 5.1
Dolby Digital 2.0

This DVD will only be available in Brazil. Click here to buy it.


---
04/12/2002

Elektra has announced that the Munich 2001 show, that was also released on video and DVD under the title Stiff Upper Lip Live, will be available on iN DEMAND Pay-Per-View on May 11, 2002. The concert will be available at the price of $14.95, and will not include three tracks, namely "Hell Ain't A Bad Place To Be", "Up To My Neck In You", and "Shot Down In Flames".
---
03/28/2002

Original AC/DC singer Dave Evans is scheduled to tour the US from mid-June to mid-August for a series of dates starting and ending in Los Angeles. His live CD "A Hell Of A Night" released in 2000 in Australia only will be issued in the US by Perris Records to coincide with the tour.

News Source: Electric Shock
---
03/15/2002

Last Saturday, during a concert of "Billy Joel & Elton John" in Tampa, Billy Joel ranted about AC/DC being considered as nominees to the Rock and Roll Hall of fame. Then he shocked the audience by introducing AC/DC lead singer Brian Johnson and bassist Cliff Williams, who performed "Highway To Hell" with Billy Joel's band.

News Source: Rising Power
---
03/07/2002

An extensive history of our favorite band is being published this month and will be on the shelves on April 1st, 2002. The book is titled "AC/DC: The Definitive History", and is based on the articles from Kerrang! and Sounds magazines, the only two magazines that have been following the band since the beginning. This is sort of an update of a book with the same title published in 1995 and written by Malcolm Dome. The new one also includes a foreword by Dave Mustaine from the metal band Megadeth.

Another AC/DC related book is to be published in June of this year by Steven Rosen, the author of The Reincarnation Controversy : Uncovering the Truth in the World Religions, Black Sabbath, and Free at Last : The Story of Free and Bad Company.

Click here to pre-order "AC/DC: The Definitive History".

Click here to view additional info on "AC/DC" by Steven Rosen.
---
02/19/2002

Today is Bon Scott's 22nd death anniversary. Fans all over the world are remembering the legendary singer. Here's a poem posted at Elektra AC/DC forum by the hardcore AC/DC fan Kelly: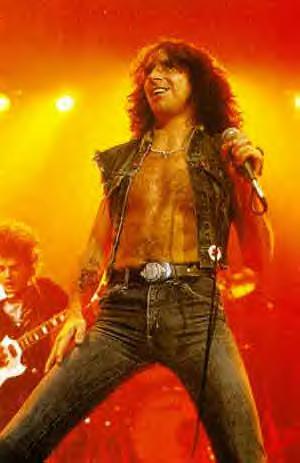 This poem is for you, the fabulous Bon Scott
Quite a character you were, forgettable you are not

Your passion for rock and roll will always be admired
The fans are ever thankful, by AC/DC, you were hired

You sang from your heart, and made the heavens rock
No one else could do this, and you never stopped

Your enthusiasm always kept the fans alive
We're sure you would still be this way, at age 55

Watching you live must have been such a treat
Your vocals along with the music made it hard to be beat

During all of your concerts you were a real showstopper
And proved to be a step above those glam rockers

Energy was always your high point on stage
It seemed that you were just let out of a cage

Your eyes focused on the camera when performing live
That showed deep inside you was a rock and roll drive

No one else compares with your incredible scream
The perfect compliment to a band that was hard, fast and mean

Your earrings and tattoos told us you were a bad boy
But underneath the fans knew you were a bundle of joy

We've heard many wild stories with you and your booze
Those must have been the times you could not refuse

You always loved the fans, the women more and more
Proven during T.N.T., night of the famous encore

Your songs were written in a poetic form
Tunes about living easy and loving free seemed to be the norm

Your seven albums with AC/DC will constantly be played
To an eternal resting, they will never be laid

Your work with the band made them an international success
And showed that you guys could rise above the rest

It was such a tragic moment to see you fall
Your spirit and joy has graciously embraced us all

Although it has been 22 years that have passed
Your strong spirit will always last

You will remain in our hearts that are full of rock and roll
Also, at the same time, forever rocking our souls

And by the fans you will always be loved
We hope you are smiling down on us from up above

This poem was all for you, the late, the great BON
Rest in peace eternally, and never stop RIDING ON
---
01/17/2002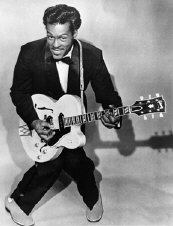 According to The New Yorker, rock legend and AC/DC's favorite, Chuck Berry, is releasing a new album soon. Chuck, who is now seventy-five years old, spent much of last spring in a place called the Four Seasons studio, not far from the airport in St. Louis, his home town. This will be his first studio album in almost twenty-five years. The album, which will be released in early summer, will include a dozen new songs.
Click here to read the whole article, which also includes a small interview with Chuck.
Thanks to JOANGUS at Elektra AC/DC.




---
01/15/2002

Brian Johnson continues to make surprise appearances away from his day job. The latest will happen on February 3, when he plays with a band that also includes actors Jimmy Nail and Tim Healy at Newcastle City Hall. This is a charity show in aid of one Sammy Johnson, a talented actor from the North-East of England.

News Source: Total Rock
---
12/14/2001

Once again AC/DC "failed to make the cut" for the Rock 'n' Roll Hall of fame. The bands who were "Good Enough" to make it are The Ramones, Tom Petty and the Heartbreakers and the Talking Heads. This is the second year in a row when the judges decided that AC/DC wasn't good enough to cut it. Not that AC/DC gives a flying fuck about the judges, who wouldn't know good Rock 'n' Roll if it bit them in the ass, and their Rock 'n' Roll Hall of Shame! Stupid Motherf....
---
12/14/2001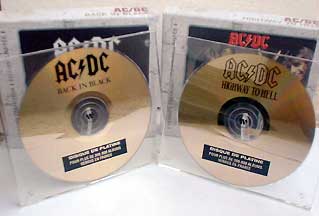 The albums "Highway to Hell" and "Back in Black" have been released in a special collectors edition deluxe box in France. These releases include an unique and official "Disque De Platine" in perspex display plaque with stand, presented in 6" x 5" picture box.

News Source: Rising Power
---
12/04/2001

The Stiff Upper Lip - Live DVD was released today in the U.S. Fans can order it from CDNOW.com.
---
12/03/2001
According to interviews given to French press by Angus and Brian, Malcolm is already working on new material for the upcoming AC/DC album. Brian told Rockhard Magazine, "...we're gonna do everything to release an album as soon as possible. Last time the fans were so angry to wait 5 years...I talked to Malcolm last week and he told me that he's working on new songs."

In another article in the magazine, Angus added, "I think that we ain't gonna wait to much time before entering in studio because the fans tells us that 5 years without a new AC/DC record it's a little bit too long. So we have to hurry up."

News Source: Rising Power
---
11/15/2001
The Angus Young Action Figure is officially being released by McFarlane Toys today. Angus is 5 11/16 inches tall in a slightly hunched playing position. He sports 12 articulation points - neck, shoulders, wrists, waist, hips, thighs and ankles - and is dressed in his classic schoolboy outfit (shorts, jacket, white shirt and tie). Angus, of course, comes with his famous Gibson SG six-string. The included base for Angus to stand on is more than 8 inches tall, featuring the AC/DC logo at the top and a nifty Hell's Bell. Order it now from Amazon.com




News Source: Spawn.com



---
11/13/2001

The upcoming live DVD recorded in Munich last summer won't show the original introduction (Angus statue destroying buildings and cities around the world) but a new one. The original intro has certainly be removed because of the NYC events.

News Source: Rising Power
---
11/07/2001

An interview of Angus Young will be aired next week on RTL2 (French radio Station) during the program "Pop-Rock Station By Zégut". A part of the interview will be aired each day (from Monday to Friday) between 21h and Midnight. The radio station is also offering some DVD players through an AC/DC contest.

News Source: Rising Power
---
11/06/2001

"Stiff Upper Lip Live" VHS/DVD releases dates are now confirmed as follows:
Japan - Nov. 21st (tbc)
Europe - Nov. 26th
Australia - Dec. 3rd
USA - Dec. 4th

News Source: Electric Shock
---
11/02/2001

The release of the "Stiff Upper Lip Live" video/DVD has been delayed by a couple of weeks in the US, where it is now scheduled to hit stores on December 4th.

News Source:Elektra AC/DC
---
10/27/2001

Shortly before returning home to Florida after the Geordie II reunion dates, Brian Johnson recorded two tracks with his former bandmates. The two tunes, "Wor Geordie's Lost His Liggy" and "Biker Hill," are traditional songs from England's Northeast and will be part of a non-profit compilation to be released next month.

News Source: Electric Shock
---
10/13/2001

AC/DC has set a record in the Guiness Book of World Records for the Best-selling Australian album. I think we all know which that is. It's "Fly on the Wall". No I'm kidding, it's "Black In Black". Here's what it says:

"The best-selling album by an Australian act is AC/DC's Back In Black with estimated global sales of 19 million copies since 1980. Formed in 1973, in Sydney, NSW, Australia, this heavy metal act reportedly found their name after a band member's sister read the label on a vacuum cleaner."
---
10/12/2001

I have just recieved the setlist from the Geordie II show on Sep. 28th at the Opera house in Newcastle, and here it is:
Since you've been gone (Rainbow)

Unknown named song (Nazareth)

Geordie's lost his liggie (local folk song)

We've got to get out of this place (Animals)

Hold the line (Toto)

Unknown named song (Animals)

Rocking with the boys (Geordie)

Black Dog (Led Zeppelin)

Rock and roll (Led Zeppelin)

Intermission (Brian wanted a pint of beer!)
Bad case of loving you (Robert Palmer)

Warming up the band (Heads, hands and feet - this used to be the band's opening song in the 1970's!)

Don't let me be mis-understood (Animals)

Feels like the first time (Foreigner)

Wrong side of the law (Geordie - never played on stage before!)

Can you do it? (Geordie - one of the band's hit singles)

All Because of you (Geordie - one of the band's hit singles and Brian falls off the stage in a fit of excitement but is un-damaged!)

2,4,6,8 Motorway (Tom Robinson Band)

Be good to yourself (Frankie Miller)

Whole lotta rosie (AC/DC - Geordie actually did used to have this in their set in the late 1970's!!!!)

Encore
We've got to get out of this place (Animals)
---
10/11/2001

David Caesar (Director) and actor-producer Bryan Brown of the newly shot Australian film "Dirty Deeds" apparently want to include music by the Easybeats and early AC/DC in the soundtrack. The film is based in Sydney in the late sixties and stars John Goodman from Roseanne and The Flintstones fame. For more information about the movie, read this article.
---
10/04/2001

It is confirmed that the release of the "Stiff Upper Lip - Live" DVD is delayed. It will be released end November. The new US official release date is November 20th.
---
10/03/2001

The upcoming "Stiff Upper Lip - Live" DVD and VHS will contains the Munich 2001 open air show only. The Paris show (which has been mounted) will never see the light. The French record company tried to convince Elektra to release a Double CD of the Paris show or the Paris DVD for France only but without success.

Here's the official release dates (may be delayed because of the NYC events) :

Europe : November 12th / 13th
pre-order the DVD or the VHS

USA : October 30th
pre-order the DVD or the VHS

Japan : November 21th
pre-order the DVD

News Source: Rising Power
---
10/03/2001

According to the AC/DC fan site Electric Shock, the SUL Live DVD will include the Munich concert of June 14th, 2001. The set list for that concert was the following:
Stiff Upper Lip

You Shook Me All Night Long

Problem Child

Thunderstruck

Hell Ain't A Bad Place To Be

Hard As A Rock

Shoot To Thrill

Rock And Roll Ain't Noise Pollution

What Do You Do For Money Honey

Bad Boy Boogie

Hells Bells

Up To My Neck In You

The Jack

Back In Black

Dirty Deeds Done Dirt Cheap

Highway To Hell

Whole Lotta Rosie

Let There Be Rock

T.N.T.

For Those About To Rock (We Salute You)

Shot Down In Flames
---
10/02/2001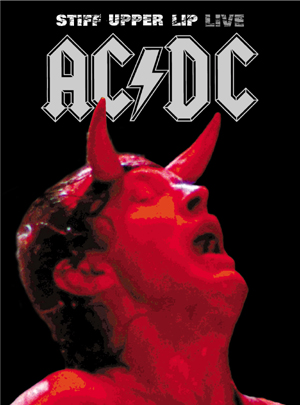 The official release date of the Stiff Upper Lip Live DVD in UK is November 12th. The official date in France is November 13th. More information about the DVD will be posted here as soon as I find out!
---
09/18/2001

In the wake of the tragic events in America recently the radio network Clear Channel has generated for its radio stations a staggering list of rock songs and pop songs with words presumably inappropriate for the airwaves, including John Lennon's "Imagine," and Led Zeppelin's "Stairway To Heaven,".
Seven tracks by AC/DC have been classed as inappropriate for broadcast on the airwaves at the present time.
The AC/DC tracks listed are "Shot Down In Flames," "Shoot To Thrill," "Dirty Deeds," "Highway To Hell," "Safe In New York City," "TNT," "Hell's Bells";
---
09/18/2001

The ballot of nominees for the 2002 Rock n Roll Hame of Fame includes the Sex Pistols, Talking Heads , Ramones, Jackson Browne, Chantels, Dells ,5 Royales, Isaac Hayes, Gram Parsons, Gene Pitney, Tom Petty and the Heartbreakers. AC/DC, Patti Smith, Black Sabbath, Brenda Lee and Lynyrd Skynyrd.
Artists are eligible to be inducted after 25 years have passed since their first record was released.
The inductees likely will be announced next year.
The hall of fame is in Cleveland, Ohio.
---
08/24/2001

The CD based on the television series is now available, it contains two tracks that might interest hardcore AC/DC fans. Fraternity (Bon's old band) – Seasons Of Change, and The Easybeats – Good Times. Click here to buy the CD.
---
08/17/2001

AC/DC Tribute Festival Pajala , Sweden 2nd/3rd November 2001 The Northern Swedish town of Pajala will be host to a tribute AC/DC festival in November 2001. Taking part in this 2 day event will be Swedish AC/DC tribute bands AC/DC JAM and Livewire.

Friday 2nd November 2001

7 pm: Concert movie on the big screen (with full rig PA)

9 pm - 02 am: Live in nightclub: LIVE/WIRE

News Source: Crabsody In Blue
---
08/14/2001

The Australian Broadcasting Corporation(ABC) is currently running a six episode TV series called "Long Way To The Top" that started on August 8th and ends on the 16th. Created by ABC TV with an accompanying book and CD, this series gives you a guide to the past 50 years of Australian rock and roll. For all the hard-headed AC/DC fans out there who don't know, our favorite band is a part of that history. For more details about the TV series and how to obtain the book and CD click here.

P.S: The site is under construction.

News Source: Crabsody in Blue.
---
08/11/2001

AC/DC fans worldwide will be glad to know that the Kirriemuir Museum, that recently opened in the summer of 2001, has decided to honor the rock legend Bon Scott. For those of you who don't know much about Bon Scott, Kirriemuir is Bon's hometown. The museum proudly displays the cover of Highway To Hell. Click here for further details.

News Source: Crabsody In Blue
---
08/08/2001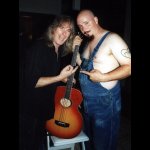 Well, it looks like hard rock legends AC/DC have taken notice of the hillbilly tribute band Hayseed Dixie, who translate the Aussie band's classics into bluegrass barnyard rave-ups. The quartet which has won notice for its renditions of AC/DC songs on its self-titled debut album on DTR/Dualtone Records and caught the ear of bassist Cliff Williams, who asked them to perform at a tour wrap party at his East Coast mountain retreat. Two other AC/DC members set to attend the party were waylaid but the spirit of the band burned brightly as Hayseed Dixie played two full sets of AC/DC music, plus bluegrass standards and even a coupla KISS tunes.

Williams joined the Hayseed boys onstage in a rendition of AC/DC's "Have A Drink On Me" and later told the band members, "I've been playing a lot of these songs for 20-something years. You guys make me excited about performing them again."

"It sure is powerful strange that Cliff would build his summer home just down the road apiece from where we all come from," says Hayseed Dixie's Barley Scotch. "Of course now we never spent much time in that particular neighborhood before."

News Source: KNAC.com
---
06/28/2001

Just reported in the Newcastle Chronicle, Brian Johnson and his old mates of Geordie have decided to undertake a small British tour of Pubs/clubs where the band originally started in the 70's. The band will rehearse in September and will tour in October. The live band will consist of Geordie Mark III (Dave Robson on bass, Dek Rootham on guitar and Dave Whitaker on drums), which only recorded a single with Brian (Treat Her Like A Lady/Rockin With The Boys) and toured the clubs during 1977-1980 right before Brian joined AC/DC. Check the Chronicle article here.
---
06/22/2001

Even luckier than the audience of Munich, Parisians just got treated tonight to "Ride On" as the ultimate encore after "For those about to rock," with the band all dressed up in blue French Football team T-Shirts! This has never been performed live by the band.
---
06/20/2001

After being postponed many times, the US version of the book "Highway To Hell - The Life & Time of AC/DC Legend Bon Scott" is now out. First published in Australia in 1994 and quite difficult to find elsewhere, this biography of Bon's life, although very well researched, has been criticized by many since, including the band itself, which refused to be interviewed for the book. The US version is updated from the original, and the same rare photos are included.

Also available (although published sometime last year) is the guitar tablature songbook of "Stiff Upper Lip".
---
06/15/2001

Last night's concert in Munich was filmed for a future release on DVD, which should happen before the end of the year. This may have been the reason behind the surprise and certainly unexpected return of the band on stage after an 8 minute applause following the usual closing track "For Those About To Rock" for a rendition of "Shot Down In Flames".
---
06/07/2001

On Saturday June 9th, Swiz TV Channel SF-DRS 2 will air the famous BBC "Sight & Sound" concert recorded at London's Golders Green Hipprodrome on October 27th 1977. The concert is 45 minutes long and has never been shown on TV since the original BBC broadcast. Details:

Saturday June 9th - 10:45pm - 11:00pm
On SF-DRS 2, Switzerland (Also available on EUTELSAT satellite)
---
06/06/2001

All of Brian Johnson's former band Geordie's albums have been reissued on CD over the years and it seems labels are still cashing in with a Best Of every year or so, but the CD that just came out a couple of month a go is actually a cool release for a few reasons. After Brian left Geordie the band carried on and released another Lp in 1978 called "No Good Woman," which contained 3 tracks sang with Brian on lead vocals, even though he'd left the band 4 years earlier. That album is extremely hard to find today (And it seems was only ever released in Sweden, France & Argentina) and had never been issued on CD. A Geordie fan from Russia put together this reissue (and it IS a legal release) and added 2 completely unreleased Geordie tracks (sang by Brian), "Dollars-Deutchmarks," and "I Remember." The CD also contains an cool booklet with photos, lyrics & info. For all inquiries and orders email kos.mos@relcom.ru.
---
06/05/2001

The first issue of "Rock Hard Magazine" has just been published in France, and this is an AC/DC-special issue. The magazine is 68 pages thick & packed with AC/DC info. Included are interviews with Simon Wright, Mark Evans & Phil Rudd, some rarely-seen early shots from Dave Evans' photo-album which were first seen on this very website! Also included is a CD-ROM with photos & video sequences of the band in the studio in 1999, TV spots & other goodies. All in French, it can mail ordered by inquiring at bighouse@club-internet.fr. A German version will follow, although it won't include the CD-ROM.
---
05/31/2001
Press release from Albert Productions:

"Friday On My Mind, the classic working class rock and roll anthem was last night voted as the best Australian song of all time. Written by Harry Vanda and George Young the worldwide Easybeats hit was selected by the Australasian Performing Right Association (APRA) as the best and most significant Australian song of the past 75 years. In a gala ceremony rock group You Am I performed a rousing version of the hit with one of the two writers, Harry Vanda on hand as a special guest guitarist for the evening's climax. Co-writer George Young was also honoured but did not attend the function. It's a Long Way to the Top, written by Angus Young, Malcolm Young and Bon Scott was voted the ninth best song. Friday on My Mind was The Easybeats' fifth number one in Australia and also hit the number six spot on the English charts. It also made the American top 20 and has since been recorded by David Bowie, Gary Moore and Peter Frampton amongst many others."
---
05/26/2001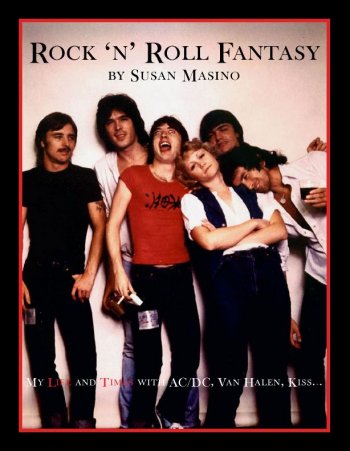 Writer Susan Masino first encountered AC/DC in Madison on August 16th 1977 during their first US tour. She immediately befriended the band and one of their roadie, Barry Taylor, and closely followed the band's rise until Barry's departure from the band's entourage in 1980. She just released her story in the form of an e-Book on CD-ROM earlier this month. In "Rock N Roll Fantasy" you'll read about her story as a music journalist which relates some fascinating facts about AC/DC's early days, and also includes offstage stories on the likes of KISS, Van Halen & Cheap Trick. Also in this ebook are many photos of the band's Madison performance in 1977, and a 30 minute interview Susan conducted (or tried to...) with the entire band in December 1977. This hilarious interview, by itself, justifies getting this book. Visit www.susanmasino.com for all details on how to order it.
---
05/05/2001
Due due to Brian Johnson's sore throat, 2 shows of the current US tour have been postponned. The rescheduled Madison show will take place on May 11th, and the Detroit show on the 12th. Also, the Albany date has been moved to May 9th.
The show in Prague of June 12th will be filmed & recorded for a DVD release later in the year.
British label Simply Vinyl just re-released "Let There Be Rock" & "Highway To Hell" in high quality vinyl on April 30th. This is a UK release only.
A Special Tour edition of "Stiff Upper Lip" CD will be released in Europe on May 29th, most likely resembling the recently-released Australian one that contained tracks from the Phoenix 2000 show.

News Source: Electric Shock