Phil Rudd

Phillip Hugh Rudd was born on May 19, 1954 in Melbourne, Australia. Phil made his name with the Colored Balls, a skinhead band formed by guitarist Lobby Lloyd and singer Angry Anderson (who went on to form Rose Tatoo), which terrorized the club circuit during the early Seventies with a ferocious brand of yob-rock.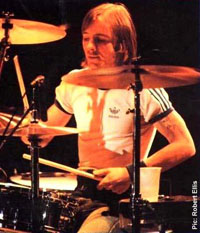 Two singles ('Liberate Rock' and 'Mess Of Blues') were the only recognised fruits of Phil Rudd's time with the Colored Balls who, in 1974, changed their name to Buster Brown and went on to record one album ('Something To Say') for the indie Mushroom Records later the same year. But by the beginning of 1975 Phil had had enough, and hardly hesitated when AC/DC offered him the gig.
In 1983, at the end of the recording sessions of 'Flick Of The Switch', there were personal difficulties between Phil and Malcolm Young. Their relationship progressively deteriorated, to the point where a physical confrontation eventually took place. Two hours later Phil was out, flying home. Phil elected to retire to New Zealand where he bought a helicopter business and gave up professional music completely.
In 1991, when AC/DC were playing in New Zealand, Phil came to the show. After the show he visited with the band for hours in the dressing room. They hadn't seen him in about 8½ years. Then, around May 1994, they asked Phil to come and jam with them. He was back in the band.