Chris Slade

Chris Slade was born on October 30, 1946 in Pontypridd, Wales. His career can be traced back to 1963. His first success came in 1965 when he played on the Tom Jones hit single 'It's Not Unusual'. Chris subsequently toured with Tom Jones before quitting in 1969 to join a group called Tomorrow whose focal attraction was an Australian blonde called Olivia Newton-John.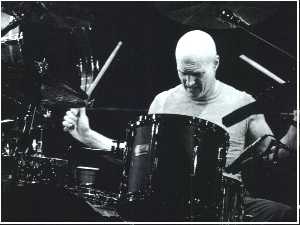 Returning to session work, Chris recorded albums with Tony Hazzard and Tom Paxton in 1971, before joining Manfred Mann's Earth Band in March 1972. He was to spend six years with the band, recording nine albums and achieving three UK Top Ten singles in the process: 'Joybringer' (No. 9, October 1973), 'Blinded By The Light' (No. 6, September 1976) and 'Davy's On The Road Again' (No.6, June 1978).
After leaving the Earth Band, Chris recorded two albums in 1979 with Frankie Miller and Kai Olsson, before joining Uriah Heep in time to play on their 'Conquest' album in 1980. After that, Chris Slade teamed up with Gary Numan, Bad Company guitarist Mick Ralphs in the disastrous Mick Ralphs Band and toured with Pink Floyd guitarist David Gilmour, prior to teaming up with Jimmy Page, Paul Rodgers and bassist Tony Franklin in The Firm at the end of 1984.
The Firm never lived up to the reputation of its individual members, although they did produce two albums for Atlantic in 1985 and 1986. Then Chris joined up with Gary Moore on a temporary basis, taking over from Cozy Powell just four days before the start of the 1989 'After The War' tour. It was at one of Gary Moore's gigs in Los Angeles that Malcolm Young saw Chris Slade play. After the tour it was his intention to put together a band with ex-Aerosmith guitarist Rick Dufay. But the call from AC/DC scuppered those plans.